Subscribe Today & Never Miss a Post!
Why Mats Make a Difference in Grocery Stores
A recent study reported that there are approximately 37,000 grocery stores in the United States, visited by 32 million people every day, or about 900 visitors per store per day.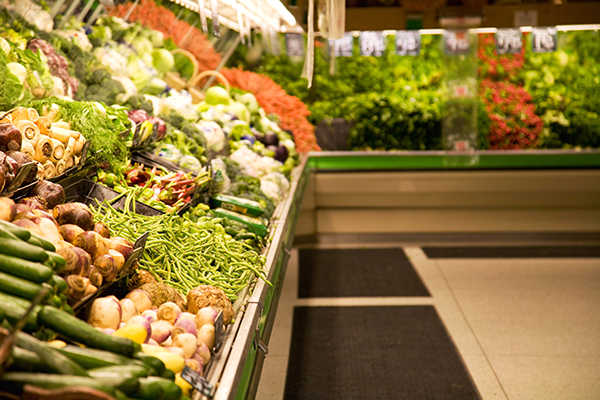 According to studies by ISSA, the worldwide cleaning association, if 1,500 people walk into a facility in which no mats are installed, 42 percent of the floor finish will be worn off due to foot traffic. Assuming these numbers are correct, even with the best of care, that means the finish on a grocery store floor will mostly be removed in about four days, especially in areas near entries. And in all areas of the store, the finish will likely be removed within a week or more.
This tells us why the installation of floor mats in grocery stores is so necessary. However, not any mat will do. When it comes to selecting floor mats to protect the floors and floor finish in a grocery store, here are some things grocery store professionals should know:
• Make sure the mats are high-performance mats; a high-performance mat is typically purchased and designed to last far longer and perform more effectively than a rental mat.
• Twenty feet of matting is recommended at each entrance area. This includes five to ten feet of scraper mats, placed outside the retail facility entrance; five to ten feet of wiper/scraper matting placed directly inside the doorway; and five to ten feet of wiper mats placed inside the store. Together, the three types of mats work like a system, capturing soil and moisture and preventing them from being walked onto the grocery store floor.
• Several feet of interior matting should also be installed in aisles in the store where spills are likely or where moisture and oil may build up on shoppers' shoe bottoms. This helps protect the look of the floor and helps prevent slip and fall accident.
• Install matting between the back of the store and the front of the store. This is all too often overlooked. But floors in the "back of the house" areas of a grocery store can get very soiled – dust, debris, packaging materials and particulates, etc. - during the day. If mats are not installed in these areas, that soil will be walked into the front of the store.
All these steps should help keep your grocery store floors clean, neat, and maintain that high-gloss shine. Taking these steps should also do something else, grocery store administrators will certainly appreciate, and that is keep your floor care costs down.
Stripping and refinishing a store floor can be very expensive and is certainly not considered an environmentally friendly cleaning procedure. In some areas of the country, the slurry that develops when stripping a floor must now be treated as hazardous waste, which only adds to the costs of refinishing a floor. Installing high-performance - purchased - floor mats are one of the most economical and effective ways to keep grocery store floors looking there best.
The Crown Matting Technology blog is where cleaning professionals and building managers find expert, practical advice on the many features and benefits of high-quality, purchased floor mats and how they can help keep your facility cleaner, safer, healthier, and looking its best. For more information, contact us at 800-MAT-LINE (628-5463).