Workers-Delight Spiffy Vinyl
#531, 531, 488, #541, 541, 542, 489
Dry Area, Anti-Fatigue, Puncture Resistant, Puncture-Resistant, Easy To Clean, Sweep Clean, Damp Mop, Heavy-Duty, Dry Area, Hog Heaven, Saddle Trax, Supreme Diamond Foot, Cushion Trax Ultra, Zedlan, PVC, Safety-Walk Cushion Matting, Workers-Delight Spiffy Vinyl, Workers Delight Spiffy Vinyl, Workersdelight Spiffy Vinyl, Workers Delight, Workers-Delight, Durability, Durable, Stability, Stable
DRY AREA | ANTI-FATIGUE

Workers Delight Spiffy Vinyl and Workers Delight Spiffy Vinyl Supreme offers an easy to clean surface with anti-fatigue properties. Highly energized Zedlan foam provides extra bounce that stimulates muscles and blood flow to reduce fatigue. A durable solid top surface increases the productive life of the mat. Designed with beveled edges and rounded corners creating a safer environment.
FEATURES
Puncture-resistant surface for better durability and stability
Highly energized Zedlan sponge combines softness and resilience for exceptional relief
Easy maintenance: sweep clean or damp mop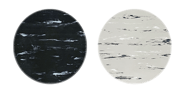 COLORS Black, French Gray
APPLICATIONS
Provides a heavy-duty solution for dry areas - pick modules, warehouses, laboratories, dental offices, medical offices, pharmacies, and cashier stations.
Additional Information
Sizes: 2' x 3', 3' x 5', 3' x 12'
Roll Sizes: 2' x 60', 3' x 60', 6' x 60'
Colors: Black, French Gray
Thickness: 9/16" 5/8"
Warranty: Total Confidence
Customization: Yes, 2', 3', 4' widths
Material: Zedlan Foam (Patent #5,965,650)
Technical Data
Product Material: Vinyl top surface with Zedlan Foam
Tabor Abrasion: ≤.5 grams loss per ASTM D 4060
Compression: 30% @ 7 psi per ASTM D 1667
Flammability: D.O.C. FF-1-70 (Pill Test)