Cushion Step Marbleized Rubber
#510, 510
dry, anti fatigue, Interior, Indoor, Cushion Step Marbleized Rubber, Cushion Step Marbleized, PVC sponge, PVC, easy to clean, oil resistant, grease resistant, Cushion step rubber,
DRY AREA | ANTI-FATIGUE
Smooth marbleized rubber surface with foam backing offers an attractive and easy to clean mat. Resistant to oil, grease and all common acids and alkalis as well as organic solvents. Safety beveled edges are available on standard sized mats.
FEATURES
Puncture resistance rubber surface for better traction, stability and durability.
Foam PVC sponge fused to smooth marble pattern surface.
Easy to clean, sweep clean or damp mop.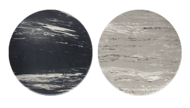 COLORS Black, Gray
APPLICATIONS
For interior dry areas - factories, work stations, cashier's area, schools, medical and pharmacies
Additional Information
Sizes: 2' x 3', 3' x 5', 3' x 12'
Colors: Black, Gray
Pattern: Smooth marble pattern
Thickness: 9/16"
Warranty: Total Confidence
Customization: Yes, in 2', 3', 4', widths
Material: Rubber surface, foam backing
Technical Data
Material: Marbleized Rubber Surface
Backing: PVC Foam

Weight: 1.6 lb per square ft.
Thickness: 9/16"
Flammability: D.O.C. -FF-1-70