Subscribe Today & Never Miss a Post!
Increase Brand Awareness with a Flocked Mat
You may have heard of a flocked Christmas tree, but have you heard of a flocked mat?
Flocked Mats are a specialty of Fremont, Ohio's Crown Matting Technologies manufacturing facility. We speak highly about our flocked mat as it was the first logo mat, we made on-site early in the company's history. It is also one of eight promotional image mats Crown has to offer. Flocked mats are meant for indoor light traffic areas and allow you to highlight a special message or logo for your business. The flocking process causes these mats to be thicker on the imprint area. The added thickness is because the electrostatically charged nylon fiber that bonds to the mat carpet top surface allows the flocking fibers to stand straight up.
The Process
Crown Matting Technologies Flocked mats are unique in their process of being made. This process starts with a blank canvas, either Rely-On Olefin or Eco-Step. Eco-Step and other mat options are available for special orders.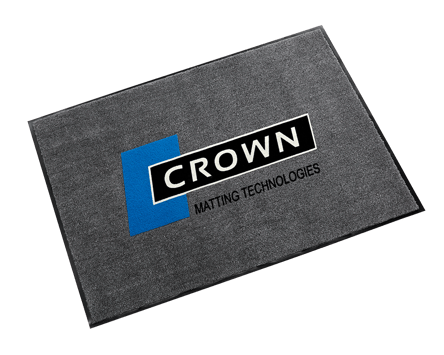 For the flocking process to start, several screens are created into the shape of the design imprint. This screen is for an adhering process and the application of colored flocks. The first screen is used to press the glue into the mat's fibers, once the glue is pressed through, the screen is removed and a new one is placed. This screen is for the first flock color, if there are multiple colors the screens are changed for the next color. After the screens have been made and the glue is pressed into the mat's fibers the flocking process starts. The flocking process is accomplished with a machine that blows the flocking made of polypropylene fiber into the mat that adheres to the glue. This process is repeated until all colors are applied to the logo. The glue that holds the flock fibers to the mat is cured, followed by vacuuming to collect all the flock that was pulled into the fibers of the mat surrounding the logo or image. Then we package and ship to your location.
Applications
Flocked mats are indoor mats meant for use in light traffic areas in locations such as small retail stores, insurance offices, medical offices, schools, and lobbies. Since these are light traffic mats, we do suggest that when used in any of these applications be in areas where traffic is low about 150-500 people. When choosing a mat and color for the imprint Crown offers 4-8 mat colors depending on the mat used and 20 PMS color options of flock fibers, with a limit of four colors per design.
Benefits
Promotional matting comes with many benefits for businesses of any size. First and foremost, logo mats come in three types of matting: scraper, scraper/wiper, and wiper.
Scraper Mat

- Scrapes dirt and debris from shoes and should be placed outside a door or directly inside of the entrance doors.

Scraper/wipe

r- Scrapes dirt and debris while wiping fine dust particles and moisture from shoes. This mat is placed inside the door following a scraper.

Wiper

- Wipes shoes clean of what moisture or debris may be left. This mat is laid last and should always be placed indoors.
These three mats are included in the 3-mat system, although it is not necessary to have three branded mats at your entrance, having one in any of these three places will grab your intended target's attention upon entering your building. The 3-mat system has many benefits including improvements to indoor air quality, reduction of the amount of dirt, dust, and debris that enters the building, and prevention of moisture from damaging floors or causing a risk for slip and fall accidents. In the long run, a 3-mat system will save you in cleaning costs, costs associated with possible slip and fall accidents, and costs from floor deterioration caused by moisture or the abrasive nature of dirt and debris.
First Impression
Safety and cost savings are crucial for any business, and so is a quality first impression. Logo mats can help you share your business information for your website, social media accounts, your logo and company name, and your unique message or a short mission statement. When entering a building the first thing you see is the floor in front of you, there you will see a logo mat with a pop of color or a unique design grabbing your attention. Having this logo mat at your door leaves you with a lasting impression. These promotional mats can be used to welcome customers or guests into your building or to show your logo or business name. They will also see the same mat as they leave the building making it the last thing they see. This increases brand awareness every time a guest or customer enters or leaves your building. Adding a logo mat can be a fun way to get your brand out there!
If you are unsure if the flocked mat is the best logo mat for you, contact us, and we can help you make the right decision for your intended application and purpose.
Topics: Entrance mats, entry mats indoor, Logo/Image