Safewalk-Light
#645, 645, 301/302, 482, #646, 646
Rubber, Kitchen, drainage, beveled, grease resistant, drainage holes, cushion-tred, safety stance, sanitop, comfort mate, worksafe, worksafe lite, industrial worksafe, tru tred, safety tru-tred, workstep, san-eze, work master II, workstation plus, Safewalk-Light, Wet/Oily Mat, Anti-Fatigue Mat, Nitrile Rubber Blend Terra Cotta, Rubber Black, Slip Resistance, 15% Recycled Material, Medium Duty, Wet Area,
WET/OILY | ANTI-FATIGUE

Safewalk-Light is our economical drainage mat that offers superior traction and good resistance to oil and fats. Raised base promotes movement of liquids resulting in a safer work environment. Designed as a lightweight product that is easy to handle, clean, and maintain.
#646 Nitrile Rubber Blend Terra Cotta (grease resistant)
#645 Rubber Black (general purpose)
FEATURES
Provides better slip resistance than ceramic and cement floors
Nitrile (Terra Cotta) rubber blend increases the resistance to oil and fats
Low profile and molded edging
Contains 15% recycled material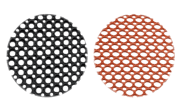 COLORS Black, Terra Cotta
*10' length mats and longer have a seam every 5'
APPLICATIONS
Provides medium-duty solution for wet/oily areas - kitchens, cafeterias and cook lines, food processing facilities, and packaging industries.
Additional Information
Sizes: 3' x 5', 3' x 10', 3' x 15', 3' x 20',
Colors: Black, Terra Cotta
Thickness: 1/2"
Warranty: Total Confidence
Material: Nitrile Rubber, SBR Rubber
Technical Data
Material: Rubber (Black) / Nitrile (Terra Co
Resiliency: 30 min per ASTM D2632
Overall Thickness: 1/2" +/-