Subscribe Today & Never Miss a Post!
Getting a Grip on Industrial Floor Safety
In today's industrial setting, safety managers are continually challenged to gather and review comprehensive safety audits for their facility. The Occupational Safety and Health Administration (OSHA) deemed that employees who stand for prolonged periods of time are subjected to potential musculoskeletal issues. With the addition of those issues, safety professionals will also need to avoid potential physical hazards such as trips, slips, and falls.

To hinder the incidence of workplace injury, anti-fatigue mats are often installed in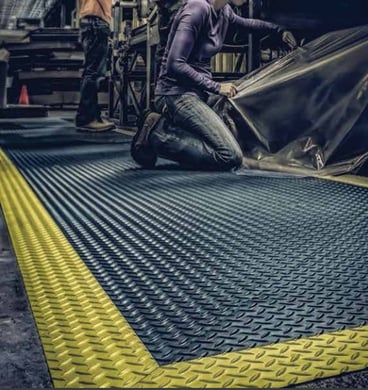 work areas for floor safety. Industrial facility administrators must consider a variety of solutions, as one mat will not fit all their needs.
Crown Matting Technologies offers a wide variety of ergonomic mats with yellow borders for added safety precautions and longevity in the workforce; some of those include Workers-Delight™ Deck Plate, Wear-Bond™ Comfort-King™, Wear-Bond™ Tuff-Spun® just to name a few.

Spills are also a concern as industrial locations sometimes operate with chemicals, oils, or greases. Crown offers drainage mats such as Safewalk™ and Safewalk-Light™ that have specially designed holes that allow grease, oil, drinks, and small debris to fall below the mat's surface, helping to keep the walking area safe, dry, and clean. These mats can eliminate slip hazards and improve productivity by reducing worker fatigue, aches, and pains.

In more extreme cases and in very harsh working environments, a mat that can hold up well to both moisture and oily conditions should be considered. Some of these options are modular style mats such as Ergo X-Treme™ or Dura-Step II, allowing administrators and workers to arrange tiles as necessary to address their specific needs.

Safety professionals should also consider selecting mats that are beveled around the edges, as this can eliminate trip hazards. Not only will the beveled edges support the working employees, it can also eliminate risk factors to the visitors at the facility. The last thing a company wants is to have a visitor to come out and become injured due to the lack of safety precautions.
For more information on the many types of mats and how to select the best mats for your facility, contact Crown Matting Technologies at 800-628-5463 or send us an email.